Cedar Shake Roofer in Hershey, Reading, Lebanon, & Lancaster
Quality cedar shingle and shake installation from PA's best roofing contractor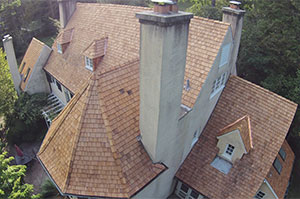 Cedar roofing provides a unique appearance for any home.
For homeowners who are looking for something more than a traditional shingle roof, cedar shake roofing is a great option. Cedar roofing provides a beautiful finished appearance while also offering long-lasting protection for your home.
Middle Creek Roofing are the local experts for cedar roof installation, and we can provide you with a quality new roof for your home. We use high-quality cedar shakes that will stand the test of time and maintain their fantastic appearance. If you're interested in a cedar roof for your home, call us today at 1-717-306-9531 or click below to get started. We offer free estimates on all our work in Lebanon, Reading, Hershey and the nearby areas.
Types of wood roofing in Greater Montgomery County, Chester County & Nearby
There are two major types of wood that are used for cedar roofing: Western Red Cedar and Alaskan Yellow Cedar. Both have unique qualities and benefits:
Western Red Cedar: Western Red Cedar is a very durable wood that is resistant to insects and other causes of decay, allowing it to maintain its appearance for years. This is a softer material with a rich color.


Alaskan Yellow Cedar: Alaskan Yellow Cedar is the hardest cedar in the world, making it very durable and long-lasting. It has a more consistent color and grain than Western Red Cedar, so you can tailor the appearance of your roof to your preference!
Choosing the right cedar roofing material for your home
At Middle Creek Roofing, we provide three main types of cedar roofing:
Photo Gallery
Shingles: Cedar shingles are machine-sawn on both sides, providing a uniform, smooth appearance. They are also thinner than shakes that are cut by hand.


Hand-split shakes: Hand-split cedar shakes have a rougher edge that provides a more traditional appearance. These cedar shakes come in both medium and heavy thickness.


Tapersawn shakes: Tapersawn shakes are the middle ground of shingles and hand-split shakes. They offer the smooth appearance of a shingle with the thickness of a shake, improving durability while providing a more modern look.
Call your local experts for cedar roof installation
If you're interested in installing new cedar shakes on your home, Middle Creek Roofing is here to help! We have years of experience providing quality cedar roofing, and we can help you get the best possible solution for your home.
Call us today at 1-717-306-9531 or contact us online to get a free estimate on a roof replacement for your home. We offer expert cedar roofing services in Reading, Hershey, Lebanon, Newmanstown, Lancaster, Chester Springs, the Main Line, York, Haverford, Wayne and throughout the surrounding areas.