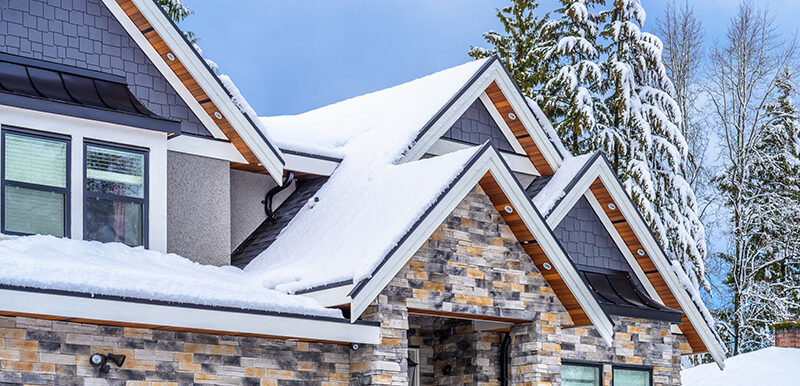 With summer winding down and heading into fall, winter will be here before we know it. Is your roof ready for the snow and harsh winter temperatures?
Here are 6 ways to winterize your roof before old man winter arrives.
Clear Clogged Gutters & Downspouts: In the fall, there always tends to be a lot of leaves that always seem to find your gutters. Make sure that all leaves & debris are cleared from the gutter so that water can flow properly. If your gutters remain clogged water can back up which can cause a leak into the interior of your home. Installing gutter guards after the gutters are free and clear of debris is a good way to minimize cleaning in the future.
Remove any overhanging trees: Not only are the trees in your yard sometimes an issue, but any tree limbs that hang over your roof can be problematic. Winter weather can put extra weight on the trees and sometimes cause branches & limbs to fall onto your roof causing pretty extensive damage. It is always a wise practice to trim these branches & limbs back before winter arrives.
Insulate your attic: While making sure that the exterior of your roof is in tip top shape and ready for winter it is always smart to make sure that the interior of your roof is ready too. When your home insulation in the attic has the proper R value it makes your roof more energy efficient. It also helps prevent ice dams on the roof.
Inspect caulking & roof flashings: Any time before old man winter arrives you should check your roof flashings as well as any caulking. The flashing on your roof is any metal strips that cover any joints on your home such as chimneys, vents and skylights. They are what helps direct the water away. Make sure that any areas which are caulked along these flashings are secure and the caulk is not cracked or dry rotted which can happen over time and with the elements.
Signs of Interior Damage: Make sure to take a look in your attic as well as the ceilings of your home to ensure that there is not any water staining which can be a sign of roof leak. Catching these types of things early will prevent larger problems later.
Inspect your roof before winter: Check over your roof, make sure that everything is in order and watertight. If you are unable to access your roof, call a reputable roofer such as Middle Creek Roofing at 717.949.2414 to come out and inspect your roof for you and provide you with a FREE assessment to ensure that your roof is ready for winter. Like it or not, winter is on the way, and we are here to help!