Amish Gutter Contractor in Allentown, Reading & throughout PA
Do you have clogged, leaky, or damaged gutters? Gutter problems can be a real disaster, and water damage from poor gutters can cause expensive and unsightly damage to the interior and exterior of your property. Save yourself hours of frustration by calling the gutter professionals at Middle Creek Roofing to see if you need a gutter replacement. Everything roofing is our business, including gutters, and we take pride in a job well done. Middle Creek Roofing uses the best quality products and our works is done by the best professionals in the field.
Has weather caused gutter damage to or completely torn down your gutters? Whether you need new gutters or looking to repair existing, damaged gutters, Middle Creek Roofing can help. We will work closely with you to get the job done efficiently and quickly, removing any and all mess that may be left behind.
If you're interested in gutter repair or gutter installation services for your home, call us today at 1-717-210-5980 or click below to get started. We offer gutter installation cost estimates in Allentown, Reading, Bethlehem, and throughout the surrounding areas.
Before and After
Before

After

Copper Gutter Installation completed in Camp Hill, PA.

Before

After

Client was experiencing an issue with water ponding on their rubber roof. Middle Creek Roofing was able to install a downspout for the client and resolve the water ponding issue that they were experiencing.

Before

After

Check out this downspout repair we completed.

Before

After

Gutter Cleaning completed in Myerstown, PA.

Before

After

Middle Creek recently installed a new roof on this 2-story colonial home that has an older style gutter system currently. To achieve longer life out of the gutter system we installed a custom made copper flashing material and lined the existing gutters with it.
Our gutter services in Greater Montgomery County, Chester County & Nearby
Gutters can be damaged by ice, tree debris, clogs, and many other contributing factors. If your gutters are clogged, it could lead to water blockage and cause irreversible damage. Let us prevent the inevitable from happening by fixing and/or reinstalling your gutter system. We offer complete gutter services, including:
Gutter Cleaning
Service Plans
Gutter Protection
Gutter Repair
Gutter Replacement
Gutter Installation
Downspouts
Gutter Guards
Gutter Screening
Roof Cleaning
And More...
Related Videos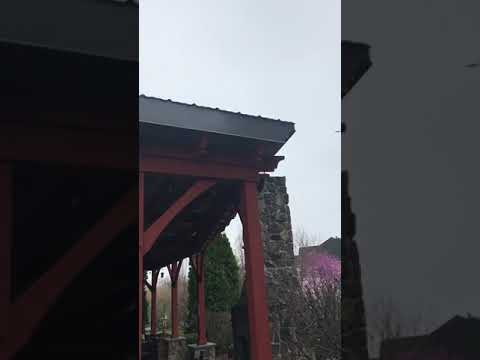 Gutter Inspection- Royersford, PA.
Gutter Inspection completed in Royersford, PA. Watch Video »
Gutter Colors
Middle Creek Roofing offers gutters in these following colors to match the exterior of your home.
Get a gutter cost estimate today!
If you need gutter repair, replacement, or installation, gutter guards, or any other gutter services, the local experts at Middle Creek Roofing have you covered. We can help you get the right solutions for your home and ensure that your home is completely protected from weather and water damage.
Call us today at 1-717-210-5980 or contact us online to get started with a gutter repair or installation cost estimate. We offer all our gutter services in Reading, Allentown, Bethlehem, Bensalem, Levittown, Harrisburg, Abington, Cheltenham, Havertown, Haverford, and throughout the surrounding areas.
Looking for a price? Get a no cost, no obligation free estimate.