Roof Replacement Company in Lebanon, PA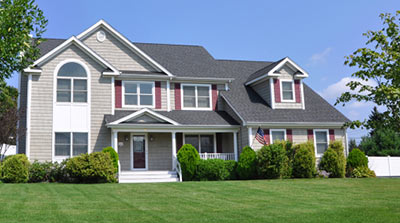 Have you been noticing that your roof has leaks, missing or broken shingles, discoloration, or a sagging structure? If the answer is yes, then it's time to call in a professional roofing contractor right away to assess the damage and repair the problem. Middle Creek Roofing is a full service roofing company that you can trust for all of your roofing needs in Lebanon, PA and the surrounding area.
Your roof should keep you dry, warm, and protected from the outside elements. Even the smallest sign of damage can cause serious structural damage later on that will keep your roof from functioning properly, so don't wait to call in our professional roofing experts!
Winters can be harsh in Lebanon, PA, and ice and rain can wear away even the sturdiest roof. Our ice melt systems, ice dam prevention, and ice dam removal services will keep you safe and secure through the colder months. Middle Creek Roofing is your proven roofing contractor if you have any damage at all, from the general wear and tear of age to structural collapse or serious leaks. No project is too big or too small, and we promise our clients quality results that will last for years to come.
Cedar Shake Roofing Contractor in Lebanon, PA
One of the most popular and unique roofing services we offer is our Cedar Shake Roofing. Cedar shake roofing is a great alternative to standard shingle roofing as it provides a beautiful finished appearance while also offering long-lasting protection for your home. We offer cedar shake roofing in a variety of colors and styles including:
Alaskan yellow cedar
Western red cedar
Cedar shingles
Hand-split shakes
Tapersawn shakes
Much more!
Slate Roofing Contractor in Lebanon, PA
Slate roofs are some of the most beautiful to look at as well as the most durable roofing options available. Slate roofing is also very environmentally friendly as it is all natural and won't contribute to your carbon footprint! Overall, a slate roof may cost a bit more than a regular shingle roof, but it's long-lasting and maintenance-free qualities easily make it the best value for your money.
Metal Roofing Company in Lebanon, PA
Metal roofs are very popular all over Pennsylvania. At Middle Creek Roofing we offer a variety of metal roofing colors and materials for you to choose from including:
Metal roof shingles
Steel roof shingles
Standing seam metal roofing
Metal roof panels
Corrugated metal roofing
And much more!
Free Roof Replacement Cost Quote in Lebanon, PA
When you need a professional opinion to help appraise the condition of your roof and locate any damage, Middle Creek Roofing is here for you with roofing services you can trust. Sometimes it can be difficult to pinpoint the cause of a problem or determine whether something unusual could be a sign of danger. Our qualified roofing specialists will provide a fair assessment of any damage and consult with you about available options to ensure the best solution possible. At Middle Creek Roofing, we value our customers' safety and happiness, and will keep your needs in mind through every step of the process.
Middle Creek Roofing is your best choice for all of your roofing needs in Lebanon, PA. To schedule an inspection and get your free estimate, contact us today!