ROOF Winterization
MIDDLE CREEK ROOFING, TRUST THE LOCAL ROOF WINTERIZATION COMPANY IN SOUTHEAST PA
ROOF WINTERIZATION
MIDDLE CREEK ROOFING, THE LOCAL ROOF WINTERIZATION COMPANY IN SOUTHEAST PA
---
Winterize Your Roof with Middle Creek Roofing
Winter is coming soon, and that means it's that time of the year to start thinking about protecting your roof from cold weather damage. Your roof takes a beating from winter weather – the snow, ice, wind, and freezing temperatures can all take a toll over time. That's why winterizing your roof each year is so important for extending its lifespan and preventing costly repairs down the road.
At Middle Creek Roofing, we offer complete roof winterization services to help safeguard your roof this winter. Keep reading to learn more about roof winterization, the benefits, our process, and why you should choose Middle Creek Roofing for all your roofing needs.
What is Roof Winterization?
Roof winterization involves taking proactive steps to shield your roof from the harsh effects of winter weather before they happen. It goes beyond simply clearing snow and ice. Winterization protects the roof structure and materials themselves. Some key elements of professional roof winterization include:
Inspect the roof for damage or wear to identify any vulnerabilities or needed repairs before winter hits. We check flashing, shingles, ventilation, and more.
Clearing debris like leaves from gutters and drains so melting snow and ice can run off unobstructed. Clogged drains can lead to ice damming.
Applying protective sealants to shield vulnerable areas like flashing, vents, and valleys.
Installing roof de-icing cables along the roof's edge and pitched areas to melt snow and prevent heavy ice buildup.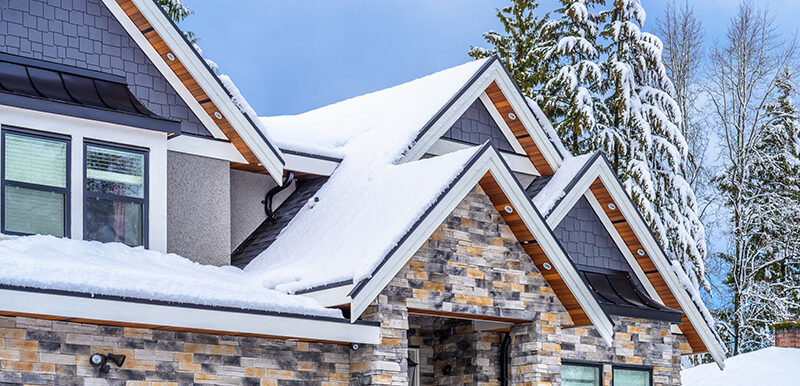 Benefits of Winterizing Your Roof
Investing in professional roof winterization offers many benefits for homeowners:
Protect Your Home & Belongings: Winterization helps prevent water damage, leaks, and even roof collapse from the accumulated weight of snow and ice. This protects your home interior and belongings from costly damage.
Save on Energy Bills: Clearing snow and preventing ice dams helps improve drainage and airflow, reducing heat loss through the attic. This can lead to a 10-25% drop in heating costs.
Extend Roof Life: Freezing temperatures, ice dams, and freeze-thaw cycles can all accelerate wear and tear on shingles and roof materials. Proper winterization protects your roof to extend its lifespan.
Avoid Emergencies & Last-Minute Repairs: Reacting to winter roof damage as it happens often means paying more for emergency repairs. Staying ahead of issues through winterization saves you money and headaches.
Enjoy Peace of Mind: Once your roof is winterized, you can relax knowing it's protected from winter weather. Our work is guaranteed to get you through the season safely.
The Middle Creek Roofing Winterization Process
At Middle Creek Roofing, we approach each roof winterization with an extensive process developed through years of experience. Here is what you can expect when you choose us for your roof winterization this winter:
Comprehensive Roof Inspection: We thoroughly inspect your entire roof and take note of any repairs needed to withstand winter. We check for damaged, loose, or missing shingles, the condition of flashing and vents, and more.
Gutter & Drain Clearing: We'll clear out any leaves, debris, or buildup in your gutters and drains so melting snow/ice doesn't lead to clogs and backups. Proper water runoff is critical.
Vulnerability Protection: We seal any vulnerable areas or points of potential leakage with protective sealants. This includes flashing, protrusions, vents, and valleys prone to ice buildup.
Roof De-icing System Installation: We strategically install roof heating cables along the roof's edge and pitch to reliably melt snow and prevent heavy ice accumulation. The system activates as needed.
Attic Inspection: We'll check your attic insulation levels and ensure that exhaust vents are clear. Proper attic ventilation helps prevent ice dams, while insulation reduces heat loss.
Follow-Up Snow Removal: After major storms throughout the winter, we can provide prompt snow-clearing services to maintain proper roof drainage and prevent ice backup.
Why Choose Middle Creek Roofing for Your Winterization?
When it comes to protecting your home, you need a roofing contractor you can trust and rely on. Middle Creek Roofing contractors have experience providing complete roof winterization services for homeowners throughout the area. Here's why you should choose us for all your roofing needs:
Highly Experienced Technicians: Our winterization crews are fully trained, equipped, and experienced in all the best practices for winter roof preparation.
Comprehensive Services: We offer all services required for complete roof protection – from inspection to de-icing system installation, sealants, snow removal, and more.
Top-Notch Customer Service: You'll get attentive customer service and transparent communication from the first quote through project completion.
Satisfaction Guarantee: We stand behind our winterization work and guarantee you'll be satisfied or get your money back. Your protection is our top priority.
Contact Us Today
Don't leave your roof vulnerable this winter – contact the experts at Middle Creek Roofing today to schedule complete roofing services and enjoy peace of mind all season long! Call 
717-864-8382 or request a quote online to get started.
---
ROOF
REPLACEMENT
GUTTER REPAIR & REPLACEMENT