Quality Roofing Company in Hershey, Reading, Lebanon, PA & Nearby
We provide complete roof repair and roof replacement services
Why Choose Us?
A+ BBB Rating
Certified CertainTeed Shingle Master
GAF Certified Company
Does your roof have a leak, broken or torn shingles, or storm damage? If so, Middle Creek Roofing are the local roofing contractors you need to restore your home. We provide high quality roof repair and roof replacement services in the Greater Montgomery County, Chester County & Nearby area, and we can help you get the right solutions for your needs.
We are only as good as the foundation we are built on. Middle Creek Roofing is built on the simple foundation of serving and from our Amish roots we believe it all starts with offering you our best. We are committed to serving you, as we would like to be served and we will carry that through from first contact to a quality clean finished job which you can enjoy for many years to come. Caring for your home is as important to us as it is to you.
No matter what type of roof damage you have, Middle Creek Roofing can help! Call us today at 1-717-949-2414 or click below to get started with a free estimate! We provide all our roofing services in Hershey, Reading, Lebanon and throughout the nearby areas.
---
Our Services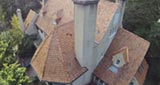 Looking for cedar roofing? We carry high-quality cedar shakes and cedar shingles and offer expert installation.
Replacing a roof is an important investment. When it's time for a new roof, we can provide a worry-free installation.
Improve the look and functionality of your gutter system with our custom gutter installation.
Storms and other detrimental weather events can ruin your roof. Don't stress -- call us for emergency repairs!
---
Solve your roofing problems with Middle Creek Roofing
If you're having issues with your home's roof, the local experts at Middle Creek Roofing are here to help. We provide quality roof repair and replacement with a variety of roofing materials, and our experienced professionals always provide excellent customer service.
Call us today at 1-717-949-2414 or contact us online to get a free estimate on roof repair or roof replacement for your home. We proudly serve in Hershey, Reading, Lebanon, Lancaster, Newmanstown, the Main Line, Chester Springs, Wayne, York, Haverford and throughout the surrounding areas.